Take note of this quote:

"Ignore the stuff you don't use," Schuler says. "Swimming pools, saunas, and basketball courts are nice, but why pay for those amenities if you're only joining to use the weights or the cardio machines?"

And you should be planning to use plenty of free weights.
"Does the gym place a greater emphasis on quality free-weight strength training exercises over machine-based programs?" asks strength coach Jim Smith. "There are limitations associated with strength training on machines.

Also, machine-based training is less efficient because it is typically associated with isolation exercises that target one specific muscle group."

(emphasis mine)
Does this sound familiar? I hope so! (If not, you need to re-read this, and this.)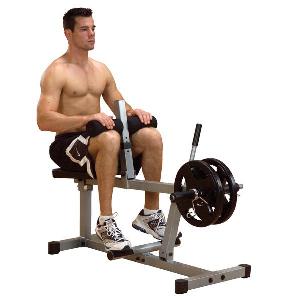 If your gym has lots of these...
And none of these, then you should look elsewhere.
This quote, too, was interesting:
"Are the trainers certified through a national fitness organization?" Smith encourages you to ask. "Also, how many years experience do they have training clients? Does the trainer know how to teach basic compound movements to a variety of people at different skill levels? A trainer must gain experience through years of training clients at all skill levels and be knowledgeable across a multitude of different training methodologies."
My experience as a personal trainer for 7 years, observing about five hundred trainers over that time, is that approximately 1 in 25 knows how to teach the fundamental compound movements on a solid, basic level, and about 1 in 75 could be called very good at it.
The crazy part is that with the widespread use of the internet, this information is so much more widely available than it was even 5 years ago. When I first began teaching and supervising other trainers as a Fitness Manager for Equinox, back in January, 2007, there was only a small amount of quality information and resources online. Now, you can go to Mark Rippetoe, Dan John, Eric Cressey, and many others' websites and read quality information, daily.
True, you can't become an accomplished coach or expert in training by simply reading things online - you need real life experience both seeing the lifts, and coaching them. But the ability to access really good information has just exploded in the last five years. So there's really no excuse, other than laziness and a willingness to do the least possible to "get by" their job, rather than want to truly master material and EXCEL at it, to explain why such a small % of Personal Trainers don't know how to properly coach the lifts.
When searching for a gym or trainer, be sure to find these things. They will be the difference between a waste of time and money, and you getting fit!